Sewage Backup Cleanup
Mahoning Valley Sewage Backup Service
For commercial and residential property owners in Mahoning Valley,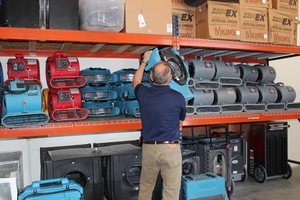 plumbing problems can be a huge hassle. If your home or storefront is suffering from a sewage backup, you need to contact a team of experts right away for the service of sewage backup in Mahoning Valley. Not only will a sewage backup fill your house with dirty water and ruin your prized possessions, but it can also expose you to dangerous bacteria and viruses.
When you need sewage backup solutions, call the industry experts at 911 Restoration of Mahoning Valley. Our local team of septic service specialists will arrive at your location within just 45 minutes of your first phone call to our offices. We're available 24/7/365 to provide you sewage backup and sewage cleanup in Mahoning Valley. Don't sit on a sewage backup problem. Contact us now.
Swift Sewage Backup Cleanup Services
Your property has numerous incoming water lines and outgoing sewer pipes. Wastewater, including water from your toilet, tub, washing machine, and sink, exits your home through these sewage lines. If one of these pipes gets clogged, dirty sewage water can back up into your commercial or residential building. This can cause indoor flooding, mold growth, contamination, and health problems.
Some symptoms of a sewage backup include:
Slow drains throughout your building

Wastewater backing up into another pipe

A foul odor coming from the sink or shower
If you notice any of these signs, contact 911 Restoration of Mahoning Valley. Take advantage of our 24-hour emergency services for sewer backup cleanup in Mahoning Valley. Sewer water inside of your home is no laughing matter. Not only will the dirty septic water damage your walls, furniture, and floors, but it can also quickly spread dangerous germs throughout your house.
Exposure to sewage may cause you to contract an infection or disease, including hepatitis, dysentery, acute gastrointestinal problems, typhoid fever, and more. Fumes from the septic tank can cause even more health concerns, such as sinus infections and other respiratory issues. Stagnant sewage water will lead to mold infestation, causing even more damage. In fact, mold and mildew will start to grow only 24 hours after the septic leak began. Mold exposure affects your health and can cause sneezing, coughing, chest tightness, and breathing difficulties.
Timing is everything when it comes to a sewage backup. The longer you wait; the more damage will occur. It's essential to call 911 Restoration of Mahoning Valley to safely and efficiently handle the problem. We are available around the clock to assist you. Call us now and we'll be at your location within 45 minutes. That's our promise to you.
Your Local Sewage Backup Cleanup Team
Mahoning Valley residents can rest easy knowing that 911 Restoration is here to help.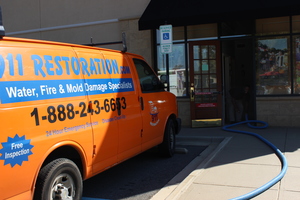 When you have a sewage backup, our IICRC certified specialists will gladly assist you. We understand that you are feeling stressed. That's why we'll be at your door right away to get to work.
Many things can lead to a sewage backup. These culprits can include:
Flooding

: Floodwaters will overwhelm your sewage system and drastically reduce its flow rate. This slower drainage may lead to a backup of wastewater in your home.
Soil settlement

: Soil that supports Mahoning Valley's city drainage pipes may wash away from a severe storm. The loss of the supporting soil could cause the drain lines to fail and collapse, leading to a sewage backup.
Tree roots

: Older sewer lines can be impacted by large tree roots. You can prevent damage by installing new sewage lines or trimming the roots.
Age

: Pipes will experience wear and tear over time. If your sewer lines are decades old, it's time to upgrade to a new system.
Pouring oils, grease, or fat down the drain

: Never, ever pour oils or fats down your kitchen drain. This can cause physical blockages in your pipes, can lead to a sewage backup.
While you can prevent some causes of sewage backups, others you have no control over. Whatever the reason is for your sewer backup, it's critical to contact professional technicians to securely handle the cleanup process. 911 Restoration also ready to tackle the sewer backup in basement in Mahoning Valley. We offer 24/7/365 sewage backup cleanup solutions for the community.
If your commercial or residential property need a sewer backup in Mahoning Valley, get help right away. Call 911 Restoration of Mahoning Valley. We proudly serve Youngstown, Warren, Niles, Struthers, and the surrounding areas.
Your Fresh Start is waiting for you.
Serving the communities of Brookfield, Burghill, Campbell, Canfield, Cortland, Fowler, Girard, Hubbard, Leavittsburg, Lowellville, Mahoning County, Masury, Niles, Struthers, Warren, Youngstown and surrounding areas.