Water Damage Restoration in Campbell
As a property owner in Campbell, you're probably familiar with all kinds of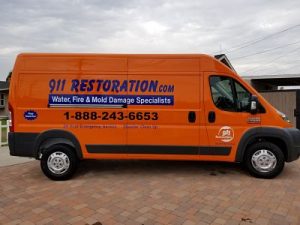 property damage. The most common form is water damage, which can strike at any time in a number of different ways. Anything from a ruptured appliance hose to malfunctioning sprinklers or a pipe burst can result in a need for professional water damage restoration. That's why our IICRC certified technicians are ready 24/7/365 to start on your mold remediation and water damage restoration. Whether you live in Campbell, Hubbard,  or another city in the Mahoning Valley area we guarantee to arrive within 45 minutes of receiving your call ready to get to work on your Fresh Start.
Mold only needs water to be around for as little as 24 hours to start growing. The longer it's left unattended, the more likely you are to have a mold infestation spreading throughout the property. The secret is to have your water damage restoration done quickly and correctly. The faster you bring in the professionals, the less likely you are to need mold removal services.
Everything from mold inspection to flood cleanup is taken care of by the technicians at 911 Restoration. If you need assistance, call immediately to get the Fresh Start you need to move forward.
Water Damage Repair
Water damage repair is a complex process best handled by trained professionals. It's certainly possible for you to attempt water damage restoration by yourself. However, are you positive that every wet spot will be found and dried out? Are you qualified to perform repairs to the property yourself? If you answered no, that's ok. That's what the technicians at 911 Restoration are for. At 911 Restoration, our IICRC certified technicians have taken their training and years of experience and developed a flawless water damage restoration process for our Campbell customers. Before we begin, we actually start with our visual inspection. The visual inspection helps us determine the extent of the water damage, if mold growth has already started, and what repairs are needed to restore the property.
Once the inspection is complete, we can begin on your water damage restoration. We start with using the latest water extraction equipment and commercial dryers to get the property completely dry. Any moisture left behind will lead to the need for mold remediation services for our Campbell customers. That's why we go the extra mile by using infrared cameras to search for any wet spots that our eyes alone can't see. In darker rooms like the basement or attic, this is a requirement for our technicians. During this process, we also take care of any needed mold remediation services if we discovered mold during the  inspection. Once we have finished our process, we can get to work on your repairs.
Everything from water damage repairs to installation of new sheetrock and flooring is done by our IICRC certified technicians. We don't believe the job is complete until the property is restored to a good as new status. That's part of our comprehensive approach to emergency restoration.
If you notice or suspect mold or notice water damage, call 911 Restoration immediately. We'll be there within 45 minutes whether you're in Campbell or another city in the Mahoning Valley region to deliver a Fresh Start you can depend on.
Flood Damage Cleanup
Flood damage cleanup is needed more often than property owners are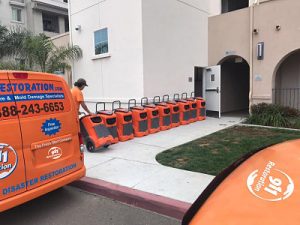 comfortable with thanks to potential pipe bursts and pipe leaks. This usually happens in the basement, and when this happens, flood damage restoration or flood cleanup is needed to restore the property back to normal. The flood cleanup process is modified from our standard water damage restoration process due to the additional step needed to get the job done correctly. Floodwater contains anything from dirt to raw waste depending on the pipe, which means it's potentially hazardous for residents in Campbell.
For this reason, decontamination is a necessary step. Also, if mold was found during the inspection, then mold decontamination will also be needed before we can proceed. Without sanitization, the water can't be handled safely and the surrounding area will contain harmful bacteria. After we finish decontamination, we can move onto our water extraction and drying process. This step doesn't change since the end goal isn't any different. We don't stop until the property is dry as a bone, and once finished, we get to work on the repairs so the property can be good as new.
Call 911 Restoration if you need emergency restoration. Don't wait to get the Fresh Start you need.
Servicing the cities of Brookfield, Burghill, Campbell, Canfield, Cortland, Fowler, Girard, Hubbard, Leavittsburg, Lowellville, Masury, Mc Donald, Mineral Ridge, New Middleton, Newton Falls, Niles, North, Jackson, Southington, Struthers, Vienna, Warren, Youngstown, and surrounding areas.