Water Damage Restoration in Girard
Property owners in Girard often find themselves more familiar with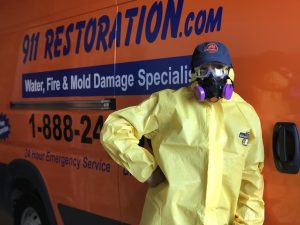 property damage than they would like. The most common form is water damage and is known to strike at any time in a variety of ways. Anything from a leaky faucet to a pipe burst can result in owners needing professional water damage restoration. That's why our IICRC certified technicians are ready 24/7/365 to assist with your mold remediation and water damage restoration. Whether you live in Girard or another city in the Mahoning Valley region we guarantee to arrive within 45 minutes of receiving your call ready to start working on your water damage restoration.
Mold only needs as little as 24 hours to begin growing when water is present on the property. The longer the water left unattended, the greater the chance of a mold infestation spreading throughout the property. The trick is to schedule water damage restoration promptly. The faster you bring in the professionals, the less likely you are to need mold removal services on top of water damage restoration.
Everything from mold inspection to flood cleanup is taken care of by the technicians at 911 Restoration. If you need assistance, call immediately to get the Fresh Start you deserve.
Water Damage Repair
Water damage repair is a process that should be handled by trained professionals. It's certainly possible that you can attempt to do it yourself, but are you be positive that every wet spot will be found and dried out? Are you handy enough to take charge with the repairs needed to get your property back to good as new? More than likely, the answer is no. At 911 Restoration, our IICRC certified technicians have taken their training and years of experience and developed a flawless water damage restoration process for our Girard customers. Before we begin, we actually start with a visual inspection. The visual inspection helps us determine the extent of the water damage, if mold already exists, and what repairs will be needed.
After the inspection is complete, we can get started on our action plan. We only use the latest water extraction equipment and commercial dryers to get the property dry as a bone. Any dampness left behind will result in mold growth a couple of months later if not sooner. That's why we take an extra step to use infrared cameras to search for any wet spots that our eyes alone can't detect. For darker rooms, this is a requirement. During this time, we also take care of any needed mold remediation services if mold was found during the inspection. Once completed, we can get to work on your repairs.
Everything from water damage repairs to installation of new flooring and sheetrock is handled by our technicians. We don't believe the job is complete until the property is restored to good as new. That's just one additional aspect of our comprehensive approach to emergency restoration.
If you suspect mold or notice water damage, call 911 Restoration promptly. We'll be there within 45 minutes whether you're in Girard or another city in the Mahoning Valley area to deliver a Fresh Start you can depend on.
Flood Damage Cleanup
Flood damage is more common than property owners want thanks to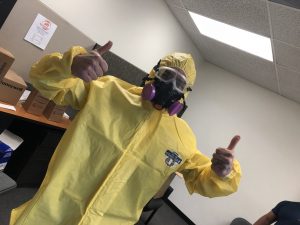 leaks and full pipe bursts causing flooded basements. When this occurs, flood damage restoration also known as flood cleanup is needed to get the property back to normal. The flood cleanup process is modified from the standard water damage restoration process due to the additional step needed to properly do the job. Floodwater often contains dirt or raw waste depending on the damaged pipe,  which means the water is hazardous and unsafe for residents in Girard.
For this reason, decontamination is a required additional step for our technicians. If we discovered mold during the inspection, then we will also perform mold decontamination before concerning ourselves with mold removal and water extraction. Without sanitization, the water is dangerous to handle and the surrounding area will contain harmful bacteria. Once this step is finished, we can begin working on the water extraction and drying process. This step remains the same since, at the end of the day, we want a completely dry property. 
Call 911 Restoration if you need water damage restoration or mold removal services. Don't delay in getting the Fresh Start you need to move forward.
Servicing the cities of Brookfield, Burghill, Campbell, Canfield, Cortland, Fowler, Girard, Hubbard, Leavittsburg, Lowellville, Masury, Mc Donald, Mineral Ridge, New Middleton, Newton Falls, Niles, North, Jackson, Southington, Struthers, Vienna, Warren, Youngstown, and surrounding areas.