Water Damage Restoration in Lowellville
When your property in Lowellville is flooded with excess rainwater or a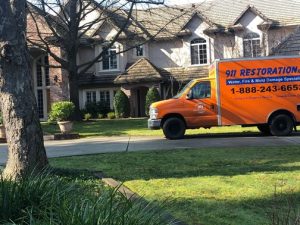 burst pipe, what would you do next? You clearly want to save your property, but there is no way that you can handle the flood cleanup on your own. There is only one clear solution: to call the water removal specialists with years of experience at 911 Restoration of Mahoning Valley. Our trained flood cleanup technicians are all IICRC certified with years of experience. Our technicians are waiting around the clock and respond to all calls within 45 minutes for water damage inspection services. All of our nationwide team believes in a Fresh Start for you and your property, even though we are a locally owned franchise. For a water extraction company in the Lowellville area that you can trust, call 911 Restoration of Mahoning Valley today.

Water Removal Services In Lowellville
Living in the Lowellville area, residents are familiar with the weather conditions that can cause a burst pipe. Whether it is heavy winds or rains, a flooded basement is something that needs to be taken care of immediately. Luckily, the remediation specialists are available on call for all of your flood cleanup needs.

A burst pipe on your property is a very serious issue. Luckily, there are a few steps that you can take to avoid it in the future. For starters, have a plumber out to regularly inspect the property and make sure that everything is in working order. After that, take special care not to flush everything that shouldn't be flushed, such as a cotton swab. This will help prevent clogs and burst pipes in the future. Another step that you can do if you have a crawl space in the Lowellville area is to keep it sealed and properly ventilated. This will ensure that there will not be any excess water in the crawl space to clean up.
Our water damage specialists in the Lowellville area have a few extra recommendations to make sure that your property is clean and dry year round. One of those is to cover up all the extra vents on the property. This doesn't take much to do well, simply some cardboard and industrial strength tape. This will prevent any extra water from seeping in and a water damage emergency from occurring.
If the worst has happened and you do need flood cleanup services, there's no reason to be concerned. Our trained specialists have years of experience in all kinds of water remediation services. They offer plenty of emergency water damage restoration services to make sure that your property is clean and dry. Emergency roof and storm repairs are even offered in certain instances.

All of our water extraction specialists in Lowellville are licensed, certified and bonded. Do the right thing for your property and choose the water remediation company of years of experience. Call 911 Restoration of Mahoning Valley for your own Fresh Start flood cleanup service today.

Mold Removal After a Burst Pipe In Lowellville
After a flood cleanup in the Lowellville area, many property owners think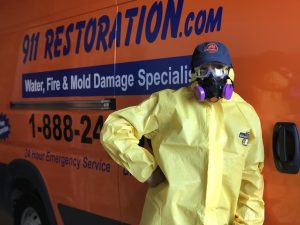 that they are in the clear. Unfortunately, after any water damage emergency mold can creep on to the property as soon as 24 hours after. In order to keep your property clean and dry, contact our trained mold removal specialists.

Many of our customers are worried about whether or not their homeowners insurance will cover mold remediation costs. There's no need to be concerned. Our team of trained mold inspection specialists accept all forms of insurance. They'll even work with you to find the best plan for your mold remediation. A free visual inspection for property owners only is offered.
Mold removal can be a difficult time for property owners, but our trained inspection specialists do their best to keep your mind at ease. They operate with an optimistic attitude throughout the entire remediation, so you will believe in the Fresh Start for both you and your property. They care about you and your belongings. Any unharmed belongings will even be boxed up and placed to the side to ensure that they remain that way during the entire deconomination. 
Mold decontamination techs in Lowellville that care about your needs can be hard to come by. Simply call the mold remediation specialists with years of experience at 911 Restoration of Mahoning Valley for your own Fresh Start today.