Disaster Restoration
You do everything you can to keep your property in top condition. Unfortunately,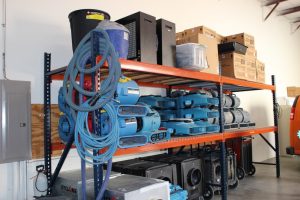 some things are out of your hands. When disaster sweeps in, whether it's a flood from the Mahoning Valley's heavy rain storms or a sudden tornado, the results can be devastating. After all your hard work and all the resources you've invested, you're now looking at extensive destruction.
At least know this: disaster restoration is not something you have to do alone. In fact, if you call 911 Restoration, you can hand every last worry over to a staff of caring disaster restoration experts.  
Our dedicated technicians have been handling disaster restoration in Youngstown for long enough to know that excellent service means expert insight and the ability to deliver true peace of mind. If you're looking at extensive water damage or are in need of fire damage cleanup, these highly trained experts know how to take care of you. They handle everything from emergency water removal to structural repairs to mold removal.
Even better, they maintain clear and specific communication with you from start to finish. Between their free visual inspection for property owners and the free insurance consultation and paperwork assistance, you can expect to go into the disaster restoration process fully informed. No surprise costs, no questionable services. You know exactly what they're doing and why.
If you need water damage restoration, mold removal, or fire damage cleanup in Youngstown, Warren, Canfield, or the surrounding area, call 911 Restoration today. You'll get expert service from real, caring human beings.
Emergency Mold, Water, And Fire Restoration
The disaster restoration professionals at 911 Restoration are IICRC certified and highly trained in every aspect of property restoration.
If you're experiencing home flooding from a pipe burst or any other water-related incident, you can count on our water damage restoration technicians to respond with urgency. You can reach 911 Restoration 24/7/365. We even guarantee that experts will arrive at your property within 45 minutes of your call.
Emergency water cleanup includes packing out and storing your undamaged items,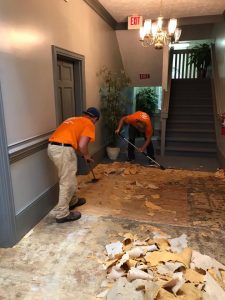 emergency boarding up, storm repair, leak detection, and roof repair. The disaster restoration staff uses fans to dry out your basement after the flood and fully dehumidify the structure of your home or business. They replace any surface that cannot be salvaged, including drywall, carpet, and flooring. They also offer mold removal, as an infestation is especially likely to occur after water damage.
If your property has been hit by fire or a puffback cleanup, every one of our technicians is also a fire damage cleanup specialist. You can expect total smoke restoration, ash and soot removal, and permanent odor removal. They use sodablasting to remove any trace of disaster from your home or office, and they even clean your furniture and dishes. Water restoration and mold removal are also a part of fire damage cleanup for any property that has been flooded by the fire hose. Our staff doesn't just repair your space; they renovate, ensuring that they leave your property looking even better than it did before disaster struck.
Finally, every disaster has a tendency to lead to one of the most easily dismissed forms of property damage: mold. Floods, tornadoes, and even fire can directly or indirectly bring moisture into your home, making your space especially hospitable to toxic mold. 911 Restoration offers professional mold inspection, as well as sampling and third-party testing to get a clear idea of what your specific mold removal needs are. Then they eliminate the infestation as well as the risk of future growth in the near future.
When you call 911 Restoration, you call the disaster restoration company who can handle it all. No need for extra contractors and additional expenses. If you need disaster restoration in Youngstown, reach out to 911 Restoration and look forward to a Fresh Start for your property…and for yourself.
Free Insurance Consultation For Fire And Flood Cleanup
What should you expect in terms of water damage repair costs? Which aspects of fire damage cleanup are covered by your insurance provider? How can you file a claim to ensure you get every benefit you deserve?
These questions sometimes come with complex answers. And when your mind is already spinning with the worry of disaster restoration, sorting through all of this on your own can feel nearly impossible.
The friendly staff at 911 Restoration wants to ease the financial stress of disaster restoration. They offer a free insurance consultation so you can go into the process of property renovation with your eyes wide open. They also help you will the sometimes overwhelming burden of paperwork, including filing a claim and inventory and loss itemization. Perhaps best of all, they bill your provider directly, relieving you of the burden of making sure all expenses have been paid.
We know it can be hard to imagine a bright future when you're standing in the aftermath of an out-of-nowhere disaster. Fortunately, we also know that a Fresh Start is closer than you think. Let us show you. Call 911 Restoration of Mahoning Valley today.
Serving the communities of Brookfield, Burghill, Campbell, Canfield, Cortland, Fowler, Girard, Hubbard, Leavittsburg, Lowellville, Mahoning County, Masury, Niles, Struthers, Warren, Youngstown and surrounding areas.