Water Damage Restoration in Leavittsburg
Has a pipe burst unexpectedly on your property in Leavittsburg? It can be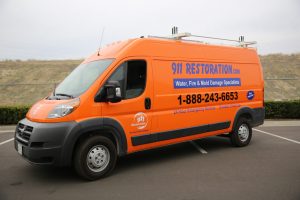 difficult to react and know what to do next. Luckily, there is a water cleanup company in Leavittsburg for all of your water damage restoration needs. 911 Restoration of Mahoning has technicians that are all IICRC certified with years of experience. Our trained flood cleanup technicians are available 24/7/365 for all of your water damage inspection needs. Whether the cause is a frozen pipe or a flooded basement, our team is trained to cover all of your needs with an optimistic attitude. The technicians believe in both a Fresh Start for you and your property. For the best flood cleanup services in Leavittsburg, call 911 Restoration of Mahoning Valley today.

Water Removal Services In Leavittsburg Around The Clock

Whether your water damage emergency was caused by a burst pipe, a flooded basement or even a ceiling leak, 911 Restoration of Mahoning Valley is trained to handle it all. Our technicians have years of experience in water damage restoration, so you know that you can trust them with your property. Whether you are experiencing a leak on your residential or commercial property, they will go above and beyond to get your property clean and dry in no time.

Our locally owned and operated water removal company has branches across the country, so you know you can trust the technicians with your property. They respond to all flood cleanup calls within 45 minutes, because the last thing that you want to do is delay after a pipe bursts on the property. In most cases, same day water removal services are even offered.

Our customers often wonder whether their water remediation services after a house flooding are covered by property owner's insurance. There is no need to worry, because our trained technicians accept all forms of insurance. A free visual inspection for property owners only is even offered.

Our trained water removal specialists know how important your property is to you, which is why they do their best to keep it in tact during the entire flood cleanup process. In fact, our techs will even box your unharmed possessions and place them to the side to ensure that they stay clean and dry during the entire water damage restoration.

Our team of trained techs goes above and beyond to make sure that your property is back to normal after a burst pipe or flooded basement. From emergency storm repairs to boarding services, our team of water removal specialists in Leavittsburg does it all. Call 911 Restoration of Mahoning Valley for your own Fresh Start today.

Mold Remediation After A Burst Pipe
After a burst pipe, many property owners think that they're in the clear.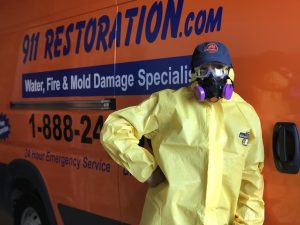 Unfortunately, sometimes that's not the case. Mold can arise as quickly as 24 hours after any water damage emergency, so it's important to act fast. Luckily, our mold inspection techs are available around the clock, so you'll have services no matter the hour.

Many property owners think that mold is not a big deal and they can attempt to remove it on their own. Unfortunately, the truth is that mold can cause further damage to the property and can deteriorate it from the inside out. There are a few warning signs when it comes to mold on the property in Leavittsburg. If there is a dampness in the air or furniture is damp to touch, call our trained mold remediation technicians for an inspection today.
Our team of trained mold removal technicians in Leavittsburg truly do their best to care about your needs. They understand that water extraction and mold inspection services can be a difficult time for property owners, so they do their best to put you at ease during the entire process. Mold can be especially difficult on property owners and can give you difficult symptoms such as coughing, sneezing or headaches. If you are experiencing any of these or noticing a popcorn ceiling in Leavittsburg, call our trained mold removal techs immediately.
From top to bottom, your property will be given a complete Fresh Start after the mold decontamination services. Our techs even offer third-party mold testing to get the most accurate reading possible. They truly put your needs first, so you will feel taken care of. You deserve your own Fresh Start after experiencing mold on the property after a burst pipe. For your own mold remediation services, contact 911 Restoration of Mahoning Valley today.