Water Damage in Mahoning Valley
Weather Alert: If you are experiencing weather-related damage from the storm, call us today for emergency assistance!
911 Restoration of Mahoning Valley 
You can't predict when your property will fall victim to water damage, mold contamination, smoke damage, or a sewage backup. The best you can do is be prepared with a reliable, certified restoration company. If you own property in Pittsburgh, you already have that ally in 911 Restoration.
Nationally recognized and locally owned and operated, 911 Restoration
of Mahoning Valley combines top-tier expertise with compassionate, human service. The company is licensed, insured, and bonded, and every one of our restoration specialists is IICRC certified. You can be confident that our technicians are your best option for water damage cleanup, mold removal, and fire damage restoration.
The restoration crew is available to you 24 hours a day, 7 days a week, 365 days a year. You can call anytime and technicians will be on the scene in 45 minutes or less, guaranteed. Call us at (330) 599-5010 and allow us to offer you a free visual inspection.

911 Restoration even works with every insurance provider, so you don't have to wonder if our services will be covered. Whether you need water damage restoration, mold removal, or fire damage restoration, a friendly staff member can help you determine what your plan covers and assist with filing a claim. We also bill your provider directly, so you don't have to give it another thought.
At 911 Restoration of Mahoning Valley, we offer a Fresh Start with our comprehensive selection of property damage restoration services, including but not limited to:
Whether you're a Mahoning Valley homeowner or business owner, 911 Restoration of Mahoning Valley is your Fresh Start! We'll communicate with you throughout the entire process, help answer questions related to insurance, and restore your property to its pre-damaged condition. One of our IICRC-certified teams is dispatched within 45 minutes of your call! Contact us today, and one of our friendly representatives will assist you in finding the nearest Mahoning Valley location.
Melissa Mymo
I used 911 Restoration for an emergency water leak that we had at an apartment community. The response time was unbelievable! They were on-site and assessing the situation within fifteen minutes of our phone call. Not only was their response time impeccable, but the work that they did was neat and meticulous! I would recommend and will definitely use when needed in the future!
Water Damage Restoration
Whether it's a pipe burst, flooded basement, or leaky roof, you can't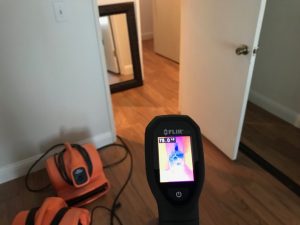 afford to drag your feet when it comes to water damage. The technicians at 911 Restoration understand this. They respond to your call immediately, and when they arrive at your property, you can expect them to move quickly and strategically to minimize damage.
The water damage restoration crew offers a range of emergency services, starting with a free visual inspection for property owners so you know the full extent of your damages. They pack out and store your unharmed items to keep them protected during restoration. Then they extract the water and repair the source of the problem. They fully dehumidify the area using professional fans, replace any damaged drywall or other surfaces, and inspect for mold that may have been caused by the water damage.
There's almost no avoiding water damage in Pittsburgh. Frigid temperatures lead to ice dams and pipe bursts. Heavy rainfall results in flooded basements and ceiling leaks. But even in the worst of scenarios, local property owners can take heart, because 911 Restoration is here to help. Reach out now for emergency service at (330) 599-5010.
Service area map
Sanitization Services & Disinfection Solutions
With the worldwide spread of the coronavirus, it's more important than ever to band together to do our part in fixing this problem. No business or person is unaffected at this point. While vaccines are coming as soon as possible, we can make things better now by maintaining our personal hygiene.
Property owners can go even further in their contributions by ensuring their buildings remain sanitized according to protocols. Adhering to these protocols ensures people who come and go will remain as protected as possible. For this reason, 911 Restoration of Mahoning Valley is standing by to provide sanitization services in addition to various disinfection solutions for both residential and commercial properties. Our IICRC-certified technicians stay vigilant with their training to ensure full compliance with all current CDC and EPA protocols in an effort to provide optimal results with our sanitization services. We won't compromise our standards, which is why you can depend on peace of mind when working with us.
Mold Removal
The prevalence of water damage in Mahoning Valley means there's also a great need for expert mold removal in Pittsburgh. 911 Restoration has it covered.
The IICRC certified mold remediation crew offers professional mold inspection and sampling. They'll find mold wherever it's hiding—under the sink, inside the wall, in your crawl space. Once they discover the mold, they'll use a third-party laboratory to correctly identify the infestation, ensuring the best and safest procedure for mold removal.
Mold can damage the structures of your home or business, not to mention threaten your health and that of your family, coworkers, customers, or pets. You want a certified mold removal crew like 911 Restoration to ensure decontamination is conducted safely, without spreading spores or toxins.
If you need mold removal in Pittsburgh, call a company you can trust: 911 Restoration. Call us at (330) 599-5010 and see how we can help.
Sewage Backup And Cleanup
Every property owner who's had sewage bubble up into their home or business has one thing in common:
They want that sewage out. Immediately.
The sewage and water damage cleanup technicians in Mahoning Valley understand this. They're on call for you 24/7/365. In fact, you can call now, and someone will be there to help you in 45 minutes or less, guaranteed.
Our IICRC certified crew can be counted on to handle sewage extraction swiftly. They use professional fans to restore your property to bone-dry status, preventing any weakening in your structures and eliminating the potential for mold growth. They also recognize the health risks associated with a sewage backup, so they take great pains to sanitize your property completely. There will be no trace of bacteria or other harmful microbes by the time they leave.
A sewage backup is an undeniable property disaster. But 911 Restoration knows how to turn that disaster into a Fresh Start. Call today, and let us show you how.
Fire And Smoke Damage Restoration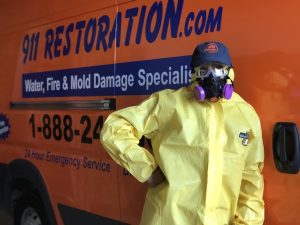 Have you recently had a property fire or puffback?
The fire damage restoration team at 911 Restoration of Mahoning Valley can get rid of that smoke and soot, as well as the nasty odor that comes with it. When it comes to fire damage restoration, these specialists can handle anything. They clean up your property, repair every structure and surface, and permanently remove the odor.
If your property has been flooded in the fire department's attempt to put out the flames, no problem. This crew knows water removal is often a part of fire damage restoration. They are prepared to manage everything, from water extraction to structural drying to mold removal.
If you need puffback cleanup or fire damage restoration in Pittsburgh, don't settle for anything less than compassionate, comprehensive service. Contact 911 Restoration at (330) 599-5010. One call is all it takes for a Fresh Start.
Disaster Restoration
Floods. Tornadoes. Violent thunderstorms.
You can never quite guess what Pittsburgh's increasingly unpredictable weather patterns will bring.
Fortunately, no matter how hard your property is hit, the disaster restoration crew at 911 Restoration is ready and available to help you rebuild at a moment's notice.
From water cleanup to fire damage restoration, these expert technicians know how to restore your property to better-than-new condition. They clean the damage and offer full-property renovation, replacing destroyed surfaces and structures with brand new, better-than-before materials. They also help you get through the overwhelming process of disaster restoration by offering a free insurance consultation. With the guidance of friendly staff, you can start rebuilding with the reassuring knowledge that your insurance claim is being handled by experts who know how to secure every benefit you are entitled to.
911 Restoration is more than a respected national chain. We're your neighbors. Our restoration workers take great pride in their community, and that means giving the best of themselves to preserve the properties that make Pittsburgh beautiful.
No matter what your damages are, 911 Restoration has your back. Contact us today for caring, expert service.
Commercial Restoration
If you are a commercial property owner, then you know time is money. Which is why it is urgent to handle any restoration emergencies your property may face promptly. If you have to close your property, then you may lose a significant amount of revenue.
In order to prevent loss of income, call our team of commercial restoration experts. Our technicians are available 365 days a year to assist your commercial property needs. We guarantee to work diligently and efficiently on remediating any damage such as water damage or frozen pipes that have burst.  Our goal is to get you back to business in as little time as possible.
While our team may be on site to provide emergency restoration services, our main priority is to ensure your safety and peace of mind. If you have questions or concerns, we will be there to answer them. When you hire 911 Restoration of Mahoning Valley, you get a team of highly trained technicians that truly care. Call our office and get on the path to a Fresh Start today at (330) 599-5010!
Serving the communities of Brookfield, Burghill, Campbell, Canfield, Cortland, Fowler, Girard, Hubbard, Leavittsburg, Lowellville, Mahoning County, Masury, Niles, Struthers, Warren, Youngstown and surrounding areas.