Sanitization Services in Mahoning Valley
You can get covid 19 cleaning services in Mahoning Valley keeping your property sanitized during the coronavirus pandemic by contacting 911 Restoration. Our crew of sanitization specialists can help you review disinfection solutions for your home or business. We are available around the clock, so you can begin getting back your peace of mind right away.
Here at 911 Restoration of Mahoning Valley, we know that getting through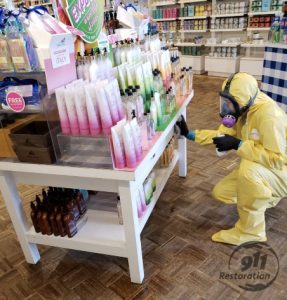 this pandemic will require everyone in the community to do their part. The coronavirus is a very infectious disease. It can spread from one person to another quickly, which makes it important that you self-isolate. You should also take the time to thoroughly wash your hands.
Additionally, the coronavirus can live on surfaces for a time after they are touched by infected individuals. You can contact 911 Restoration of Mahoning Valley for help sanitizing surfaces in your commercial or residential property. We have the experience and know-how to handle sanitization and deep cleaning for you. 911 Restoration is the best service provider company in overall covid 19 cleaning companies in Mahoning Valley.
Our crews b.ase their services on the standards issued by the CDC and the EPA. Put yourself in good hands during the coronavirus outbreak by contacting us today. We're ready to reach your property in under an hour to go over personalized disinfection solutions in Mahoning Valley.
Professional Sanitization Services and the Coronavirus
There is currently no vaccine for the coronavirus. This means that avoiding contracting the disease may require you to avoid other infected individuals. For this reason, many experts recommend self-isolating or even quarantine procedures. Many areas around the country have issued stay-at-home orders and are encouraging people to practice social distancing.
You can take additional steps to handle this outbreak by focusing on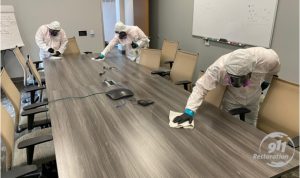 keeping your property clean and sanitized. 911 Restoration of Mahoning Valley offers professional sanitization services. You can contact us to get:
Help within 45 minutes of an emergency call

Assistance from trained and experienced sanitization experts

Sanitization services for set areas of your business or home
The crews at 911 Restoration of Mahoning Valley understand the high stress levels associated with this pandemic. Many business owners are dealing with restrictions on when they can open to the public. Other businesses have been closed completely during the pandemic.
You can get help securing your peace of mind once more by reaching out to us. We can set up a cleaning and sanitization schedule for you. Allow us to focus on disinfection solutions designed with your needs in mind, starting right now.