Water Damage Restoration in Niles
Being a property owner in Niles is rewarding, but also comes with a large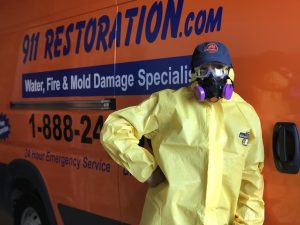 amount of responsibility. Any property damage such as water damage that occurs is your responsibility to handle. The troublesome thing about water damage is how common it is for property owners. Anything from a simple ceiling leak to a full pipe burst can result in a need for water damage restoration services. That's why our IICRC certified technicians are ready 24/7/365 to handle everything from mold remediation to water damage restoration for our Niles customers. No matter if you live in Niles, Girard, or another city in the Mahoning Valley region, we guarantee to arrive within 45 minutes ready to begin on your emergency restoration. 
It only takes 24 hours of water existing for a mold infestation to become possible. The longer the water remains, the more likely you'll have mold growth on your hands as well. The key is simple yet crucial. Getting prompt water damage restoration is the secret to not needing mold removal services on top of your water damage restoration.
If you suspect mold or notice water damage, then call 911 Restoration immediately. We'll be there within 45 minutes for our Niles customers to begin working on the Fresh Start you need to move forward.
Water Restoration Services
Water restoration services involves more than just removing the excess water and calling it done. It takes a concerted and consistent effort to perform a successful water damage restoration. That's why our IICRC certified technicians have taken their years of experience and ongoing training and combined them to develop and execute a perfected water damage restoration process to our Niles customers. We don't even start working until we have performed our visual inspection. This inspection is our means of determining how far the water damage has spread, if mold already exists, and if any additional repairs will be needed before we leave.
After we have completed the inspection, we are ready to begin working. Using only the latest water extraction equipment and commercial dryers, we work to get the property completely dried out from top to bottom. Any water left behind will only cause mold to grow over time. We make sure this isn't a concern, by using infrared cameras to doublecheck our work. During this process, we also address any needed mold remediation services if mold was discovered at the time of inspection. After completing those steps, it's time to get to work on any needed repairs.
We will repair the source of the water damage, but we also perform other repairs which includes installing new flooring and sheetrock. For us, the job isn't done until the property is restored to good as new. This philosophy is just one aspect of our comprehensive approach to emergency restoration services.
As soon as you suspect mold or notice water damage, call 911 Restoration for assistance. We'll be there for our Niles customers within 45 minutes to handle your water damage restoration or mold removal to deliver a Fresh Start you can depend on.
Flood Damage Restoration
The need for flood damage restoration is a more common need than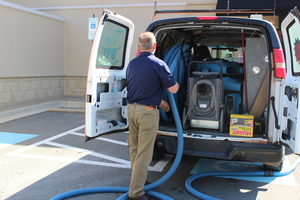 property owners would think. Thanks to the numerous pipes in the basement, a flooded basement is actually a regular occurrence whether due to a leak or pipe burst. When this occurs, nothing less than flood cleanup will get the job done. Flood cleanup is a little different from water damage restoration thanks to the additional step needed. Pipes contain anything from dirt to raw waste depending on the pipe in question. As a result, the water released is unsafe for residents in Niles and the surrounding Mahoning Valley region.
For this reason, we perform decontamination and mold decontamination services at the beginning. We take the health of our customers and technicians seriously, which is why we work to neutralize the bacteria within the water before attempting to remove it. Once we have succeeded in decontamination, we proceed to our standard water extraction and drying process. After the property is completely dry, we can start working on any repairs needed to have the property back to good as new.
If you need a mold inspection, flood cleanup or another emergency restoration service, then call 911 Restoration of Mahoning Valley immediately. Don't wait to get the Fresh Start you deserve for your property.
Servicing the cities of Brookfield, Burghill, Campbell, Canfield, Cortland, Fowler, Girard, Hubbard, Leavittsburg, Lowellville, Masury, Mc Donald, Mineral Ridge, New Middleton, Newton Falls, Niles, North, Jackson, Southington, Struthers, Vienna, Warren, Youngstown, and surrounding areas.