Mold Removal in Mahoning County
Spotting mold on your property in Youngstown can be startling, especially if you try to keep a clean property. The truth of the matter is, mildew can linger after any water damage emergency, no matter how thorough of a cleanup you do. That's why it's important to call upon the experts to take care of the remediation. 911 Restoration of Mahoning Valley is here for all of your mold removal needs in the Canfield area.
The techs have years of experience in mold remediation, so you can trust them with all of your needs. They have branches nationwide and are familiar with all types of water remediation. The technicians will go above and beyond to ensure that you remain safe and comfortable throughout the entire process. Don't delay, call 911 Restoration of Mahoning Valley today!
Prompt Mold Removal Services
When dealing with lingering mold on the property, the last thing that you want to do is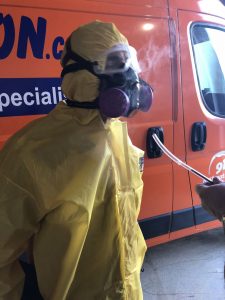 wait before contacting the decontamination crew. Many property owners think that the extra fungus is not a big deal and that they can easily take care of it on their own. Unfortunately, this couldn't be further from the truth, and all remediation services should be left to the professionals.
The technicians at 911 Restoration of Mahoning Valley understand how important quick remediation services are when dealing with mold on the property. The techs are available 24/7/365, so your mold removal needs will be handled as swiftly as possible. All calls are responded to within 45 minutes, as they understand the urgency of the situation.
The techs know that the heavy rains in the Warren area can easily cause flooding on the property. That's why they arrive on the scene for the cleanup as quickly as possible, so you are never kept waiting for mold removal services. They use third-party laboratory testing, so you will receive the most accurate mold inspection services around.
The staff is licensed, insured and bonded, so you know that you can trust them for all of your deconimation needs. They bring their years of experience to every inspection, so you will be receiving the best service possible.
After spotting mold on the property, it's imperative to have it removed as quickly as possible. You need a trained staff that is available around the clock. Call 911 Restoration of Mahoning Valley for your mold cleanup today.
Mold Removal Technicians That Go Above and Beyond
Not only do the technicians in Warren have years of experience, but they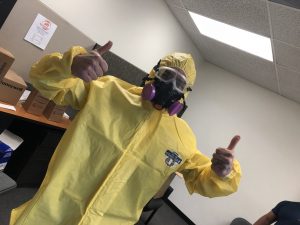 treat each customer with care. They bring their signature optimistic attitude to every mold removal, so you will feel taken care of throughout the entire process. They truly believe that this will not be the end of your property, but rather the opportunity for a Fresh Start.
The staff searches every inch of the property for hidden water or damp areas. Often, these are a breeding ground for excess mold and mildew. The extra water is often hiding in unexpected areas, such as crawl spaces. The techs are trained to spot this and to remove it in a timely manner. Your property will be entirely clean and dry from top to bottom in no time.
Not only do the techs provide comprehensive mold removal services, but complete dehumidifying services are provided as well. The techs use hazmat suits to get the most complete clean possible on the property. The technicians are truly dedicated to ensuring that your property is clean and dry. They also want to make sure that all of your belongings are safe during the extraction process.
If you are wondering about the costs of mold removal services in the Youngstown area, there is no need to worry. The staff works with all insurance companies, and works with you to find the best plan possible. Their primary concern is making sure that you and your property receive a Fresh Start, and they work with you every step of the way to make sure that occurs.
If you are looking for mold decontamination techs in the Canfield area that truly care about your needs, look no further. 911 Restoration of Mahoning Valley takes care of you every step of the way. They are proud to serve the Mahoning Valley area, and will take care of you in your time of need.

Serving the communities of Campbell, Cortland, Girard, Hubbard, Mahoning County, Niles, Struthers, Warren, Youngstown and surrounding areas.