Mold Removal in Hubbard
As a property owner in Hubbard, you're probably familiar with property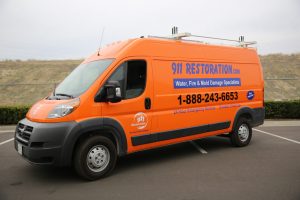 damage more than you would like to be. It's not surprising when you consider how easy it is for water damage or fire damage to occur. The worst thing about either is that it can lead to the development of mold. Mold is hard to protect against because it's subtle in its growth. This means it can eat at your property and chip away at your health for weeks if not months before you discover the problem. That's why our IICRC certified technicians stand ready 24/7/365 to help you with your mold remediation. Whether you live in Hubbard, Niles, or any other city in the Mahoning Valley region you depend on us arriving within 45 minutes of your call ready to work on your mold removal.
The key to preventing mold is to keep yourself aware of the signs of mold. Once you understand the signs, staying ahead of the problem is a snap. Some of the most common signs of mold include:
Rotting wood

Crumbled drywall

Visible mold

Breathing problems

Headaches

Persistent cough

Stale odor
You may be tempted to do the mold removal yourself. Don't do it. Normal cleaning methods and cleaners only agitate the mold spores instead of eliminating them. These agitated spores go airborne and spread to other areas on the property. This results in a bigger problem that demands nothing less than professional mold remediation handled by IICRC certified technicians.
If you suspect or observe mold on the property, call 911 Restoration immediately. Our technicians are standing by to help Hubbard residents with their mold cleanup. Don't wait to get the Fresh Start you need to move forward.
Mold Remediation Professionals
There is a large difference between mold remediation professionals getting the job done and getting the job done correctly. That's why our IICRC certified technicians have perfected their mold remediation process due to the ongoing training and years of experience they have. Everything from mold decontamination to mold removal is addressed with care and expertise so you can count on the property being restored to good as new.
We get the job done right every time because our very first step is always a visual mold inspection. We do an inspection before unloading any equipment so we can determine the extent of the mold infestation, if the mold is toxic, containment measures needed, and what repairs are needed. After we have our answers, we can set up our action plan.
With our action plan in place, we can get started on containment. The mold can't be allowed to spread, so we use the latest containment measures, which includes vapor barriers to accomplish this task. Once this step is complete, we can perform our mold decontamination process. This requires the use of industrial strength cleaners and detergents to kill all mold spores. After the mold is neutralized, we can begin the mold removal process itself. If water damage was found during the inspection, we will handle your water damage restoration at this time.
Once you suspect mold, call 911 Restoration immediately. We'll be there in 45 minutes for customers in Hubbard and the surrounding Mahoning Valley region ready to get to work. Don't wait to get the Fresh Start you need to breathe easier.
Black Mold
Mold can become toxic mold easier than property owners may think. Of the different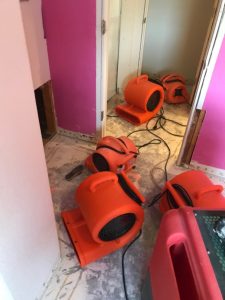 kinds of toxic mold possible, black mold is the most dangerous. This type of mold requires unusual circumstances to grow. Either the room needs to be especially dark and damp for a long period of time, or the water causing the mold needs to be contaminated. When water contains dirt, debris, raw waste, or any other contaminant it creates a perfect setup for black mold to begin growing.
Black mold causes severe health problems no matter how healthy you are. Some conditions include  organ shutdown, and in some cases, death. Your health and wellbeing is taken seriously, which is why we offer mold testing services while performing our regular mold inspection. With black mold we wear hazmat gear and perform a two-phase mold decontamination process with one round done before mold removal, and the second round occurring after the mold removal is completed. 
Call 911 Restoration promptly if you need any emergency restoration service. Don't wait to get the Fresh Start you need to begin anew.
Servicing the cities of Brookfield, Burghill, Campbell, Canfield, Cortland, Fowler, Girard, Hubbard, Leavittsburg, Lowellville, Masury, Mc Donald, Mineral Ridge, New Middleton, Newton Falls, Niles, North, Jackson, Southington, Struthers, Vienna, Warren, Youngstown, and surrounding areas.