North Jackson Regional Water Damage
Water Damage and Mold Removal
Do you need mold removal or water damage restoration in North Jackson? Turn to 911 Restoration of Mahoning Valley, the restoration contractor that puts you first.
We understand the incredible stress you're under when you're struck by basement flooding, pipe bursts, sewage backups, or any other disaster. Your greatest asset is under attack, and you need help now. At 911 Restoration, we're always at the ready. You can call any time of the day or night, including on weekends and holidays. Our water cleanup crew guarantees an arrival time of 45 minutes or less, so you're never left waiting and worrying.
We provide water damage restoration and mold remediation for homes and businesses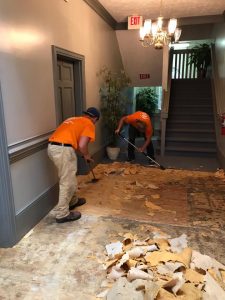 alike. 911 Restoration is licensed, bonded, and insured. We're locally owned and operated, so you can count on us to value your property as an important aspect of the community we love. Our IICRC certified flood cleanup technicians treat your basement flooding with the urgency it deserves. And they work hard to make your beautiful property brand new again.
We also do everything possible to keep water cleanup costs low and maintain transparent pricing policies. Not sure if your insurance covers frozen pipe bursts, toilet water backups, or mold inspection? Take advantage of our free insurance consultation. One of our water cleanup experts reviews your policy and explains exactly what you can expect from your provider. Then, they assist with loss itemization, file a claim on your behalf, and bill your provider directly. You don't have to think about anything beyond the water damage restoration costs that fall to you.
At 911 Restoration of Mahoning Valley, your peace of mind is our first priority. From a high standard of service to clear communication, we do all we can to make water cleanup fast and painless. Call now for the service you deserve.
Expert Basement Flooding Repair
Whether it's a home or business, basement flooding is a serious disaster. Without proper restoration, a pipe burst or flooded basement can lead to weakness in the structure of your property as well as long-term mold damage. To make sure your home or business remains strong for years to come, count on 911 Restoration.
Our water damage restoration technicians have completed extensive training to earn IICRC certification. They stay up to date with the latest techniques and equipment to ensure they always meet the industry's highest standards. And at 911 Restoration, we go above and beyond basic water cleanup. Our flood cleanup crew has mastered property repairs as well.
Has your roof been destroyed by an ice dam? They can fix it. Is your carpet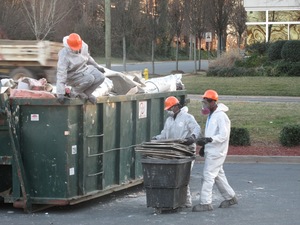 contaminated after a sewage backup? They replace it. Is your drywall weak or rotting after a frozen pipe burst or basement flooding? Your dedicated water damage restoration workers repair that, too. They even provide a complete mold inspection and mold removal.
In addition to these long-term fixes, 911 Restoration is there for you in any emergency. Whether you require boarding up, storm repair, leak detection, sewage extraction, or any other immediate need, we'll be there. Our flood cleanup techs are on the scene in 45 minutes or less. They pack out and store any items at risk of harm during the water damage restoration process. Then they work quickly to get rid of the water or sewage and dry the space completely.
When it comes to property restoration, 911 Restoration of Mahoning Valley is the best in the business. For top-tier flood cleanup in North Jackson and the surrounding area, call us today.
Certified Mold Removal in North Jackson and Beyond
Why should you turn to a certified specialist for mold inspections and mold remediation ?
Mold poses a greater threat to your property than you might imagine. This organism eats away at the materials that hold your home or business together. Many varieties of mold also release mycotoxins and other harmful particles into the air around you. This puts you at risk of health conditions ranging from allergies to heart problems.
Such a serious issue requires the attention of a trained and certified mold removal expert. Our mold inspection crew examines every hidden nook on your property to be certain they're tackling your entire mold problem. They use professional tools and cutting edge methods for effective mold removal. And they work to prevent future growth through structural dehumidifying.
You may find advice online for do-it-yourself mold remediation, but you can't remove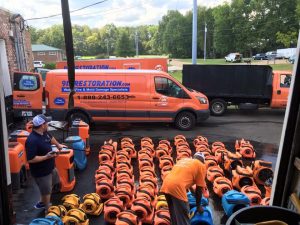 mold with household cleaners. Not completely… and not safely. When you scrub at an infestation, you force the colony to release mycotoxins and other particles into the air and into your lungs. To truly protect yourself from the dangers of a fungal attack, stay away from the contaminated area. 
Then call 911 Restoration of Mahoning Valley for comprehensive mold remediation.
Servicing the cities of Brookfield, Burghill, Campbell, Canfield, Cortland, Fowler, Girard, Hubbard, Leavittsburg, Lowellville, Mahoning County, Masury, McDonald, Mineral Ridge, New Middleton, Newton Falls, Niles, North Jackson, Southington, Struthers, Vienna, Warren, Youngstown, and surrounding areas.