Gender Reveal Parties & Risk of Fire
You might think that only candles and smoking indoors can cause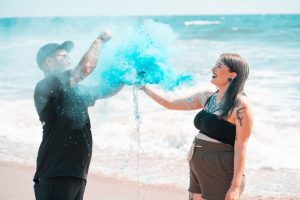 residential fires. However, the sad reality is that gender reveals party can cause residential fires too. In fact, a gender reveal party was blamed for The El Dorado fire in California.
Refugio Manuel Jimenez Jr and Angela Renee Jimenez, the couple who held the gender reveal party, were charged with several offences,  including involuntary manslaughter, over the El Dorado fire. The smoke bomb was to be blamed for the California wildfire.
This might tell you that not always the causes behind residential fires are straightforward. Sometimes, all it takes for a house to catch fire is a cigarette that wasn't properly put out. In this article, we'll tell you how the gender reveal party caused the catastrophic El Dorado wildfire in California and the other common causes of residential fires.
Boy or Girl? How a Gender Reveal Party Caused the Horrific El Dorado wildfire in California
As discussed earlier, the El Dorado wildfire in California was caused because of a gender reveal party held by the couple Refugio Manuel Jimenez Jr and Angela Renee Jimenez. The fire ignited because of the smoke bomb set off during the party, intended to release pink or blue smoke to notify the family whether the couple was having a boy or a girl.
The El Dorado fire burned for two months and covered 22,000 acres of southern California. The fire destroyed a huge number of houses and properties. Gender reveal parties are held to let the couple's families and friends know whether they are having a boy or a girl. However, sometimes, these parties can do more harm than good.
This wasn't the time that a gender reveal party was the reason behind fire damage. Last year in  February, father-to-be Christopher Pekny, 28, died while building a device to reveal the gender of his child.
In 2018, The gender reveal of Dennis Dickey's caused a fire that burned through 45,000 acres in the US state. The fire caused $8m worth of damage, and hundreds of people had to be evacuated. Two other gender-reveal parties were blamed for the wildfires burning in California in September 2020 and Arizona in April 2017.
Smoke bombs and gender reveal devices are not the only ones you have to use in your gender reveal party. You can pop up a balloon or even get baked a gender reveal cake. To prevent fire damage, you must avoid using smoke bombs and other revealing devices that, when come in contact with flammable objects, sparkle a fire.
Other Causes of Residential Fires
Gender reveal parties are uncommon causes of residential fires. However, the most common causes of residential fires include cooking activities, candles, and electric appliances.
Cooking Activities
The most common cause of residential fires that accounted for 172,900 home structure fires per year during 2014 – 2018 and accounted for 550 civilian deaths, 4,820 fire injuries, and over $1 billion worth of property damage per year in the US is cooking activities, including unattended cooking, unintentionally or intentionally not turning off the fire, and placing combustibles too close to the stove. It's common for people to get distracted while cooking.
However, it only takes the cooking equipment a few minutes to set your entire house on fire. To prevent fires caused by cooking activities, make sure to keep the combustibles like paper, wood, and plastics away from the heat source, ask someone to watch the food if you have to leave the kitchen, and don't forget to turn off the heat when you are done cooking the meal.
Candles
We all love candles. Whether it's spring or winter, for many of us, the idea of relaxing at home includes sipping on a cup of coffee, reading a book, and being surrounded by scents like vanilla, roses, cinnamon, and jasmine. For many of us, our Christmas décor isn't completed without candles.
Scented candles are real mood boosters. After a tiring day at work, lighting your favorite candle and getting in the bathtub is all most of us need. However, these candles are one of the most leading causes of residential fires.
In fact, annually, an estimated 23,600 house fires are caused by candles that account for 1,525 civilian injuries, 165 fatalities, and $390 million in direct property damage. During 2014–2018, US fire departments responded to an average of 7,610 home structure fires each year.
Electrical Appliances
As per the US Fire Administration, during 2014 – 2016, electrical appliances accounted for 23,000 fires each year. Most electrical fires are caused by faulty and outdated appliances. Fires by electrical appliances can be caused by faults in appliance cords, receptacles and switches.
To prevent electrical fires, make sure to unplug heat-producing appliances when not in use, avoid using extension cords for a longer period, don't use devices with damaged power cords, and try replacing the electrical appliances every 8 to 10 years.
As per the US fire Administration, every year a 45,000 electrical fires occurs in the country. The good news is that you can electrical fires can be prevented if you know what to look for. Not all electrical fires are caused because of faulty appliances. Overloading light fixtures, Placing flammable material near light fixtures, Space heaters, and old wiring are to be blamed as well.
Searching for a Well Rounded and Reliable Home Restoration Company in Mahoning Valley?
Fire damage can be really stressful to deal with. But, if you have a home restoration company like 911 Restoration of Mahoning Valley by your side, you don't have anything to worry about. The home restoration experts will take care of your home following a fire disaster so that you can focus on other important things.
Fire damage restoration is a lengthy process, so it's important to work with a company that can offer you quick solutions and ensure that your house gets restored as soon as possible. 911 Restoration of Mahoning Valley is one such company.
The home restoration experts arrive at your property within 45 minutes, and they begin to start working as soon as they run a thorough inspection. They make sure that the house gets restored in a way that it never reminds of the fire.