New Middleton Regional Water Damage
Water Damage and Mold Removal
What do you do when a frozen pipe bursts on New Year's Day? Who do you call for a sewage backup in the middle of the night? What about basement flooding, tornado damage, or mold contamination?
The answer is always 911 Restoration of Mahoning Valley. We're there for you in any disaster. And if you have a water damage emergency, you can count on our flood cleanup techs to be at your property in 45 minutes or less. That's true at any hour of the day or night, every single day of the year.
We provide water damage restoration and mold remediation in New Middleton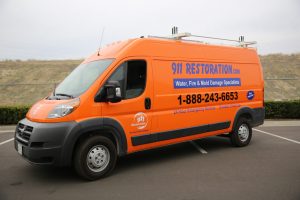 homes and businesses. Our water cleanup workers are highly trained and IICRC certified in restoration for any type of property. Whether you have a historical home or a condo, a boutique or an auto shop, we've got you covered.
Our ultimate goal is to give our neighbors a Fresh Start after a pipe burst, basement flooding, or any other disaster. We're more than a water cleanup company. We're a full property restoration provider, taking care of everything from water extraction to repairs to mold removal. 911 Restoration is licensed, bonded, and insured. When you call us, you don't have to worry about hiring a second contractor to make your home or business new again.
We even take the stress out of the insurance process by assisting you with your claim. A flood cleanup expert walks you through loss itemization and bills your provider directly. We also offer a free insurance consultation up front, so you understand exactly which water cleanup services your provider covers. We know that in a disaster like this one, those financial worries can stack up pretty quickly. Our water damage restoration staff works hard to get out in front of your concerns and solve your problems before you even think to ask.
For expert, compassionate service, call 911 Restoration of Mahoning Valley.
Comprehensive Flood Cleanup for a Truly Fresh Start
Whether it's a home or business, your property is your greatest asset. You've worked hard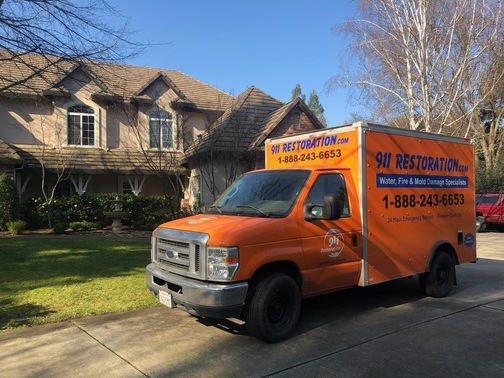 to earn it and make it the beautiful place it is. The thought of losing that hard work to a basement flooding, frozen pipe burst, storm, or any other damage is devastating. We promise you, we won't let that happen.
Our extensively trained water damage restoration techs are dedicated to restoring every property to its former glory. They are prepared for any eventuality. This includes emergency services such as:
Storm repair
Boarding up
Water extraction
Sewage removal
Leak detection
Roof repair
Structural drying
And more
They even pack out and store any belongings at risk of being harmed during flood cleanup.
Once water cleanup is complete, your dedicated flood repair crew tests for structural damage. If they discover any problems, they fix them. It doesn't matter if you need new drywall or a replaced carpet. The water damage restoration experts take care of it. Then, they perform a mold inspection, careful to check hidden spaces where mold thrives. If they discover a new colony, they take care of mold remediation and dehumidify the structure to protect your property in the long term.
Between the frigid winters and stormy springs of New Middleton, you may feel hopeless in the battle against water damage. But you're not, and you're never alone. For everything from leaky ceilings to basement flooding, call 911 Restoration of Mahoning.
Reliable Mold Removal in New Middleton
A pipe burst can do much greater damage than many property owners realize. Even once the water is gone, the structure of your property can store moisture. This is especially true in the case of a basement flooding, as concrete absorbs water like a sponge. Over time, moisture resurfaces and leads to mold contamination.
If you think you have a mold problem, call 911 Restoration for a mold inspection.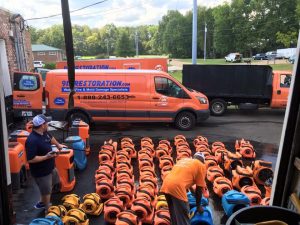 Our water damage restoration workers are also certified in mold removal. They know how to find even the most hidden infestation. And their mold remediation methods are safe and effective.
Even if you see mold in plain sight, don't attempt mold removal yourself. Fungus reproduces through airborne spores that can travel to other areas of your property. The only way to be sure mold remediation efforts are truly effective is to hire a mold inspection contractor. 
It's also smart to work with a mold removal expert because only a professional can take preventative measures against future infestations. Once our technicians get rid of your mold problem, they dehumidify the structure where the colony grew. This means they remove all the moisture from deep within the core of the structure. That way, there is no chance of stored moisture surfacing to create a welcome home for mold spores
There are so many ways water can damage your home or business. But if you call us for comprehensive water damage restoration, you have nothing to worry about. For the very best flood cleanup and mold inspection in New Middleton, reach out to 911 Restoration of Mahoning Valley.
Servicing the cities of Brookfield, Burghill, Campbell, Canfield, Cortland, Fowler, Girard, Hubbard, Leavittsburg, Lowellville, Mahoning County, Masury, McDonald, Mineral Ridge, New Middleton, Newton Falls, Niles, North Jackson, Southington, Struthers, Vienna, Warren, Youngstown, and surrounding areas.