McDonald Regional Water Damage
Water Damage and Mold Removal
You can't control when a frozen pipe burst or basement flooding will happen. But you can control how you respond to it. When you have a flood cleanup emergency or need mold removal, call the company that treats your property as well as you would. Call 911 Restoration of Mahoning Valley.
Our expert water damage restoration technicians provide expert water cleanup in McDonald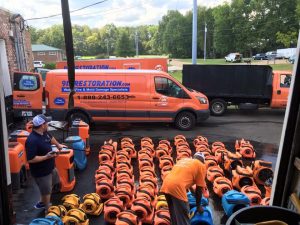 and beyond. Every member of our staff is IICRC certified. This means they've completed extensive training in all aspects of property restoration. Need emergency boarding up after damage from McDonald winds? Water extraction for a basement flooding or pipe burst? Mold inspection and mold remediation for a suspicious growth? We do it all. Our water damage restoration techs even repair damages from roofing to carpets.
Your peace of mind is our top priority in every service we provide. You can count on our water cleanup crew to communicate clearly and work fast to minimize damage. We even provide a free insurance consultation. A friendly flood cleanup staff member reviews your insurance policy and explains which services your provider covers. We also guide you through loss itemization and file your claim for you.
We provide emergency water damage restoration 24 hours a day, every day of the year. You can reach our water cleanup technicians at literally any time. And when your call comes in, they're on the scene in 45 minutes or less… guaranteed.
You may feel like you're in the midst of a nightmare. But we promise, 911 Restoration can turn your basement flooding into a Fresh Start. Call now for commercial and residential flood cleanup in McDonald and the surrounding area.
Emergency Response for Basement Flooding in McDonald
At 911 Restoration, we understand how overwhelming a water damage incident can be. McDonald is vulnerable to everything from floods to tornadoes. Harsh winters lead to frozen pipes and pipe bursts. We've seen what are our neighbors go through. We're determined to help you live in the community you love with complete peace of mind.
That's why we provide emergency water damage restoration 24/7/365. Whether you need sewer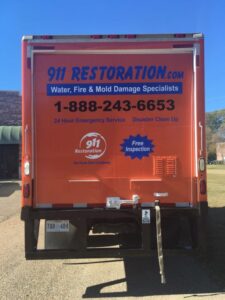 flood cleanup on a holiday or water cleanup for midnight pipe burst, we're there. We even guarantee an arrival time of 45 minutes or less.
When our technicians arrive, they assess the situation quickly to determine the best course of action. Their first priority is stopping the flow of the water, whether that means roof repair or emergency boarding up. Then they move quickly to extract all moisture through water removal, sewage removal, and structural drying.
The service doesn't end there. We believe our job is to not just get rid of the water, but to leave you with a property you can still be proud of. You've worked so hard to make your home or business shine. Nothing should destroy that—not a basement flooding or any other disaster. 
Our water damage restoration technicians inspect the space thoroughly for any signs of permanent damage. They conduct structural testing and a mold inspection. If they discover any rotting, weakness, or stains, they repair the problem themselves. And if their mold inspection reveals an infestation, they handle mold remediation as well.
By the time they drive away, you're left with a home or business that sparkles like new. Don't settle for the bare minimum. Call 911 Restoration of Mahoning Valley and get ready to love your property again.
Why Mold Removal is Part of Comprehensive Water Damage Restoration
At 911 Restoration, we consider a mold inspection an essential aspect of the water cleanup process. Why?
Because if your home or business is left with a creeping mold infestation after our technicians leave, you technically still have water damage. That's not okay with us. Our goal is to make it seem as though water never touched your property.
To that end, our IICRC certified mold removal crew performs a thorough mold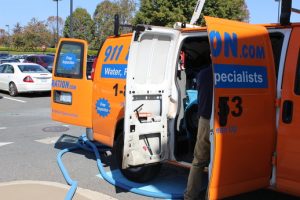 inspection. They examine all the hidden nooks and crannies where mold is most likely to thrive after a pipe burst. If they discover a growing colony, they communicate with you about the type of infestation you have and the best course of action. Then, they handle mold removal safely to prevent the spread of spores and dangerous particles through your property.
Mold remediation is especially important following a basement flooding. Mold thrives in dark spaces. Plus, your concrete basement floors absorb moisture like a sponge. It's important to hire a thorough water damage restoration company like 911 Restoration to be sure the basement is dried completely. Even then, water stored deep within the concrete can rise to the surface and start a mold infestation later. This is why a mold inspection is so important. Our mold removal technicians look for every sign of a new infestation. They help you move forward with confidence.
For safe, reliable mold remediation in McDonald, count on 911 Restoration of Mahoning Valley.
Servicing the cities of Brookfield, Burghill, Campbell, Canfield, Cortland, Fowler, Girard, Hubbard, Leavittsburg, Lowellville, Mahoning County, Masury, McDonald, Mineral Ridge, New Middleton, Newton Falls, Niles, North Jackson, Southington, Struthers, Vienna, Warren, Youngstown, and surrounding areas.